Service Offerings
for Exhibitors and Sponsors at #IDSF23
The 3rd International Digital Security Forum (IDSF) to be held from 19.–21. September 2023 is organized by AIT Austrian Institute of Technology in partnership with the Austrian Security and Defence Industries Group of the Austrian Federal Economic Chamber and the Competence Center Secure Austria (KSÖ) and with the support of major Austrian ministries, the Kuratorium Sicheres Österreich (KSÖ) as well as in cooperation with international partner organizations.
#IDSF23 will dedicate this week to bring together international and national leadership and stakeholders for information exchange and to foster collaboration and build partnership in the context of this year's conference motto "Digital resilience – the basis for a safe, secure and free society" The conference will be a mix of keynotes from prominent digital security players from around the world and discussion panels with experts from authorities, academia and industry in the context of digital security. Part of the #IDSF23 program is an accompanying exhibition of innovative Austrian SMEs and global companies from the digital sector.
Following last year's success forum with over 250 international participants in Vienna and more than 100 speakers from 41 countries, #IDSF23 is created as a physical event and takes place at the Raiffeisen Forum in Vienna. Participation will be possible exclusively on-site in Vienna.
Sponsors of the #IDSF23 are invited to take this opportunity to underscore their role as active stakeholders in the context of shaping and driving forward a secure digitalisation for the benefit of an interconnected society. Present your solutions, experience and products to an interested international audience, and engage directly with other professionals from research, industry and the public sector. We invite you to become part of the IDSF community – select a sponsorship package that suits your organisation's needs.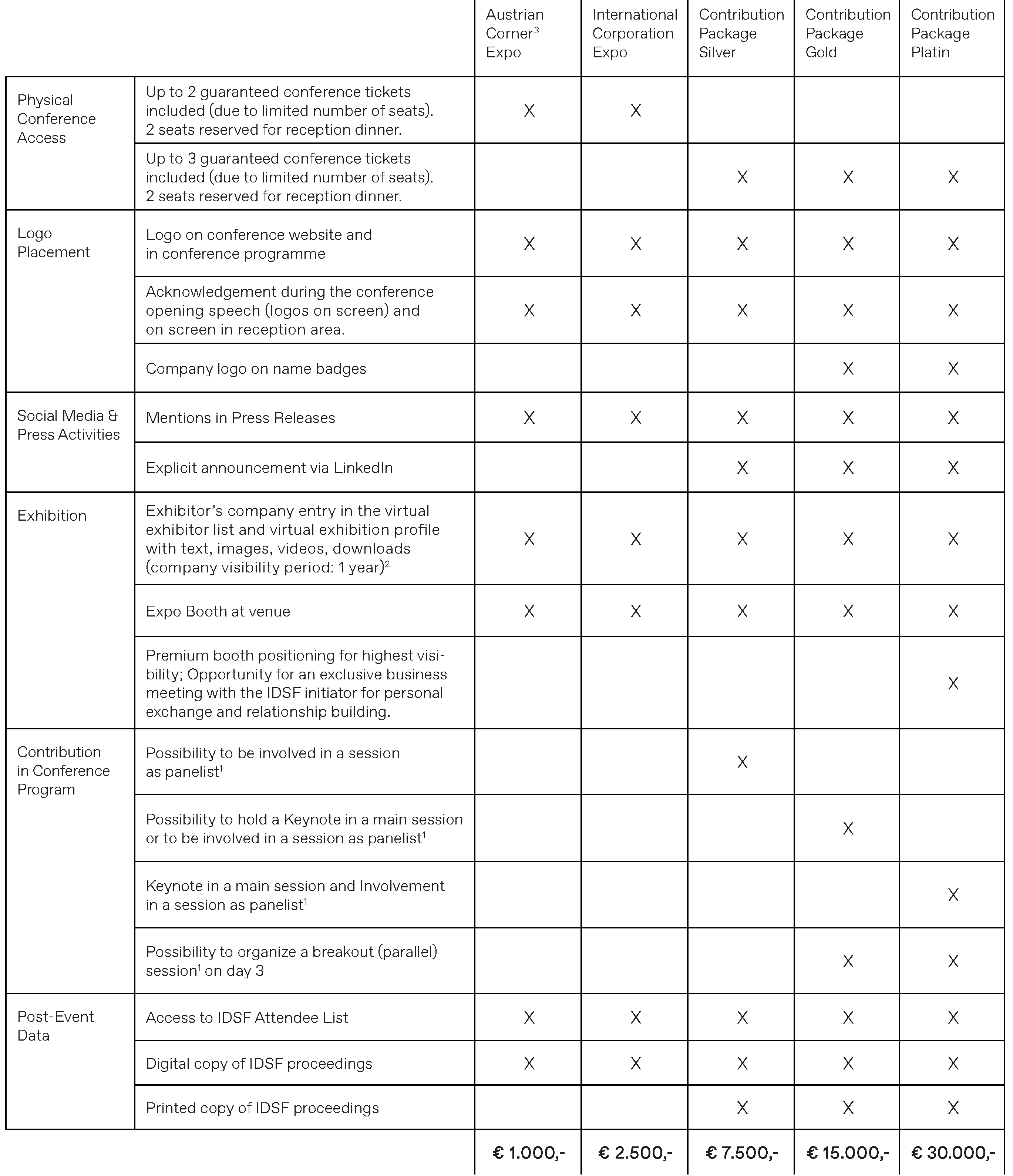 1 Limited offer.
2 Material must be sent to idsf@ait.ac.at at least 4 weeks before the event. All exhibitors and sponsors are asked to register on the conference website in advance.
3 Participation in the Austrian Corner is restricted only to Austrian SME´s with legal entities.
Please note:
Details regarding length of speaking slots, breakout sessions, workshops, etc. are to be discussed with the conference organizer. The conference language is English.